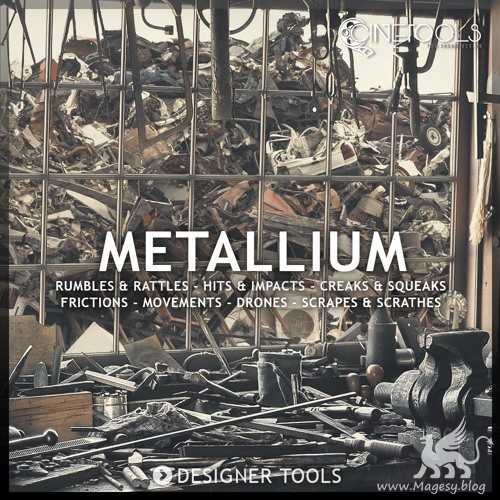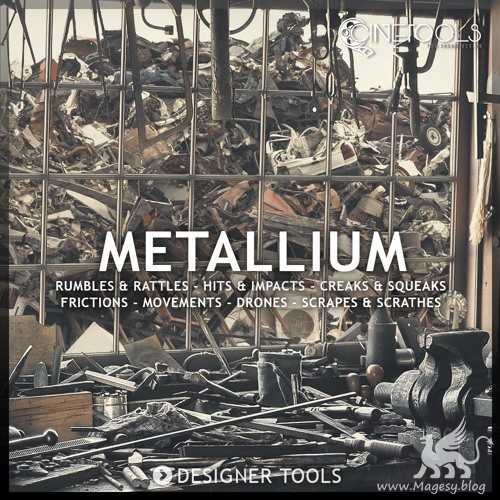 .:Metallium WAV:.
FANTASTiC | 12 December 2021 | 979 MB
We are here with "Metallium" second edition from our Designer Tools series, featuring a variety of raw sources which recorded different size and type of materials; bowed aqua-phones, screaming metals, frictions, impacts, big metal scrapes and any other metal elements!! "Metallium" allows you to exercise your creativity with what it includes; contains all the necessary elements you need to design your unique sound effects from scratch. Consist of various recordings from aqua-phones to bowed cymbals, metal pipe scrapes to rusty cymbals, swords to rattling pipes, giant containers to big metal doors, metallic drones to metal box, chain rubs to tiny metals, junkyard metal pieces to iron plates, sliding doors to large metal barrels, garage doors to color cans, chairs and various metal tools.. So if your project needs something like that this collection will be your best friend!!
In detail expect to find 1.93GB of raw content including 590 high quality metallic sound effects – consist of; 47 Bowed, 31 Creaks & Squeaks, 21 Drones, 106 Drop & Drag & Slide, 36 Frictions, 233 Hits & Impacts, 13 Movements, 50 Rumbles & Rattles and 53 Scrapes & Scratches. All the sounds recorded with Rode NT1, Rode NT4, Rode NTG-8, Audio Technica BP4025, Zoom F8, Tascam DR-44WL and perfectly categorized and labeled to make it easy for you to use them and ready to combine with the other sources. All of the samples ready for use and 100% original & royalty-free for your use without any additional licensing fees.
"Metallium" is perfect for any kind of cinematic productions from fantasy to adventure, action to sci-fi, horror to thriller, war to mystery; whatever you are doing – has all you need to give everything the right intense sense of motion! Also suitable for any projects like Game and Advertising requiring high-quality metallic sounds.
Details:
•24 Bit / 96kHz
•24 Bit / 192kHz
•590 Files / Sounds
•47 Bowed Metals
•31 Creaks & Squeaks
•21 Drones
•106 Drop & Drag & Slide
•36 Frictions
•233 Hits & Impacts
•13 Metal Movements
•50 Rumbles & Rattles
•53 Scrapes & Scratches
INFO/DEMO/BUY: https://mage.si/AuN5j
Metallium: High Quality Metallic Sound Effects
🡳 Download 🡳